So the pictures I am about to show you are kind of embarrassing. Well, I guess really embarrassing. Our office is in shambles. We don't even use it as an office. It has become a dumping ground. And because we rarely go in there it has remain this way for a few months now.
And these were even taken after I had straightened up a little.
So with all my new sewing and craft projects, I have been wishing for a extra room so our dining room isn't always in disarray. And then I realized I had another room. It was just in need of a little - ok A LOT - of organization. Oh and I have to do it on a budget. A very small budget. This means finding cheap shelving (IKEA anyone?) to hold my craft stuff in an organized but beautiful way. And finding a way to beautify our very ugly but very functional and big file cabinet desk.
I am not allowing myself to take on any more craft projects until this is finished. But I am very excited. Look at some of these fabulous inspiration rooms: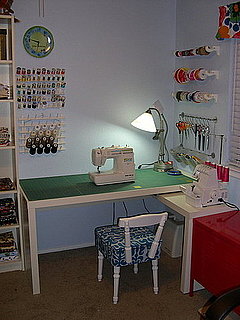 This one is from
casasugar
. It is not overly done but very functional and organized. This is really what I am trying to achieve.
I found this one on
pink street
. This is what really inspired me to create a nice craft space.
I love this with the galvanized buckets. Check out all the other great ideas on
Thread Banger
.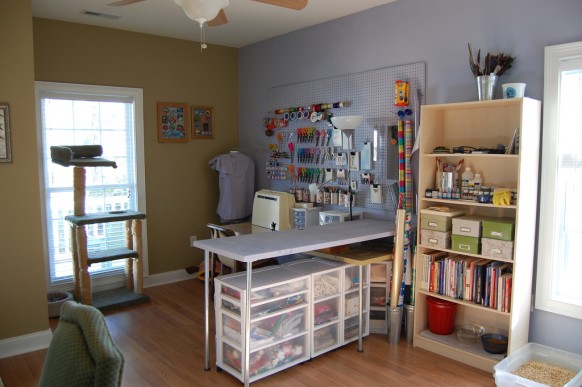 I am definitely going to have to put up some sort of peg board like this one on
Home Designing
.
How adorable it this from
the project girl
? Very anthropologie. I am going to have to start searching thrift shops and yard sales so I can find a cool desk like this.
Obviously some of this is not attainable on a budget but I sure can try! So if you have any suggestions for me, feel free to comment. I would love some more inspiration for my inspiration room!